If you are not interested in buying cheap quality china made guitars, you should go for Yamaha f310 6 string acoustic guitar.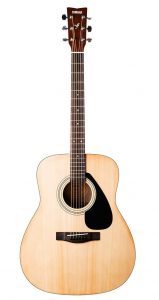 Made up with a combination of the highest quality woods and other material, this is by far the most respected guitar in the industry along with fender and gibson.
Yamaha has been known to produce high quality musical instruments for a long time. Remember those keyboards in 90's songs with Yamaha written on them 🙂
Coming to the topic, let's take a closer look at the features of the f310s Yamaha 6 string acoustic guitar.
First of all, for people who don't know this. Yamaha Guitar f310 is one of the best selling guitars in the global market.
Well, we are discussing about the Indian market here, but that statement sets a benchmark for sure!
This guitar is such high in demand, that the Amazon store only allows 1 to be ordered per customer.
Weighing mere 2.4 kilos, this guitar is a completely handcrafted masterpiece.
The top of the guitar has been manufactured with high quality spruce wood. The sides of the guitar have been crafted with meranti wood which is a light hardwood and quite abundant in South east Asia.
The neck has been manufactured with the Nato wood, also know as the east mahogany which is an ideal wood to craft guitars with great look and tonal output.
The remaining parts including the fret and the bridge are made up of rosewood.
Coming to the strings, the strings are made up of steel to provide amazing acoustics and tone to the guitar.
The gloss appearance of this acoustic guitar makes it look more amazing and classy. So it would be a pleasure to play it at parties or concerts.
The frets of the guitar have been positioned evenly, so you don't have to worry to play it down the neck for higher notes. Moreover, the fret is good enough for a capo to be used.
The Yamaha f310 6 String Acoustic guitar has more than 200 positive reviews under its name on the Amazon store.
This is one of the best 6 strings acoustic guitars available in the Indian market.
Whether you are a beginner, or a professional guitarist looking to hone your skills, this guitar is a perfect fit for people of all brackets.
You can order this guitar in the Natural as well as Tobaco Sunburst colour variants. Find more images and customer reviews of the Yamaha f310 acoustic guitar.
You can check out the yamaha guitar f310 price in India by following the Order button below.