It is essential for creative minds to have some clarity when they are trying to create a masterpiece. In the case of musicians, clarity comes with good quality studio monitor headphones. They serve as an aid while recording as well as editing – ensuring that the innovations come through without any disruptions.

Here's a quick list of the best Studio Monitor Headphones In India for beginners and pros:
What is a Studio Monitor Headphone?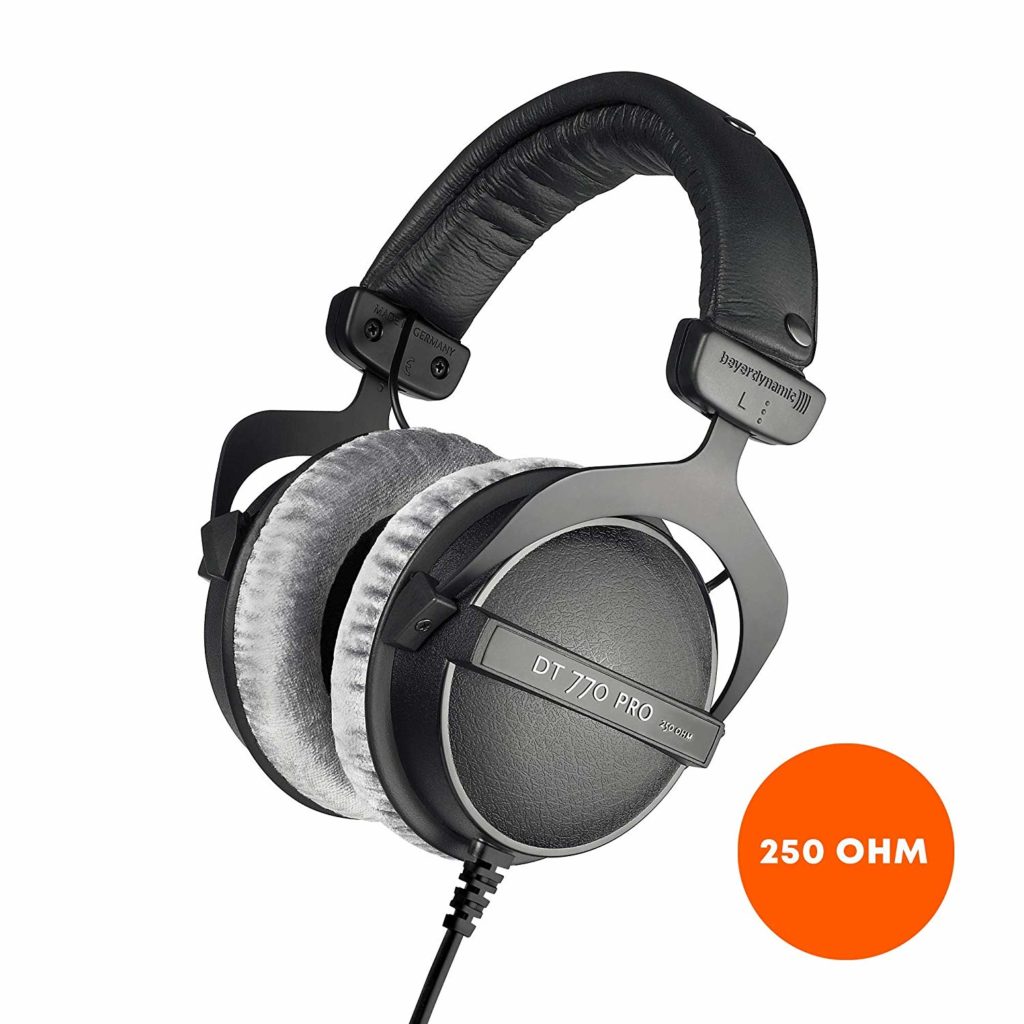 In simple terms, a studio monitor headphone is a high quality and performance headphone used for dedicated purposes like music recording or mixing.
Instruments like studio headphones have undergone a practical phase, which enables its unlimited use. It comes handy for all professionals — be it for recording, mixing or even creating a YouTube vlog.
There are typically two types that are popular among artists, i.e. Closed Back Headphones — studio headphones for recording, and Open Back Headphones – studio headphones for mixing. Each serve a distinct purpose with the help of its unique characteristics.
For instance, you'd need a studio headphone for recording when you want to be able to hear only how your guitar sounds. Similarly, in order to achieve consistency while mixing, you'd need studio headphones.

Before you go right ahead and start looking for your right pick, it is vital that you understand your requirements.
The market is filled with a plethora of options — each consisting of a special set of specifications. Therefore, first, you need to identify your own needs.
Some of the common features to look for while choosing the right studio headphones for mastering are sensitivity, flat frequency response, replaceable parts, impedance and last but not the least, your very own comfort.
Following are the top six best studio headphones in India for Beginners to Pros:

Best Studio Headphones in India Reviews
Best Overall Studio Monitor Headphones: Audio-Technica ATH-M20x Over-Ear Professional


When Audio-Technica decided to take the wraps off ATH-M20X, there wasn't a lot to expect. Since the headphones came at an extremely affordable price, the market typically assumed that these will serve the purpose of a basic set of studio headphones. However, that wasn't the case.
Described by endless online reviewers as a worthy upgrade in the whole of ATH series, this pair had a lot more to offer than meets the eye. It is dubbed as being the top choice for budding audio enthusiasts and we agree.
Features and Benefits
A closed-back set of headphones — the ATH-M20x is built with advanced engineering quality. The pair features a 40mm driver and comes packed with what the company states are rare earth magnets and copper-clad aluminum wire voice coils.
On the design front, it sports a circumpolar design contours that fit perfectly around the ears and keep the disturbance away from the external environment.
Designed specifically for studio tracking and mixing, these headphones pack a single-side cable exit. With a frequency response of 15 – 20,000 Hz and a maximum input power of 700 mW at 1 kHz, ATH-M20x is a powerhouse on a budget.

Pros
Defines flat sound output
Design is user-friendly and provides maximum comfort
Extremely powerful in a budget price
Sports premium quality built with earth magnets and copper-clad aluminum wire voice coils
Cons
Price: INR 3570/- (Click the button below for latest discounts and customer reviews)
.
Best Studio Headphones Under 1500 Rupees: Behringer Studio Headphones


When Behringer decided to commercialize their new line-up of products, their HPM1000-BK studio headphone model was born. The technology giant specifically emphasized upon its multi-purpose capabilities. Regardless of what your requirement is — be it recording, mixing, monitoring a bass line or even just sitting back to enjoy your favourite song, the Behringer Studio Headphones has aced every need to the T!

Features and Benefits
Behringer decided to deliver to the comfort of its users by designing an oval-shaped ear cup which only further goes on to pack high-resolution capsules. These help in ensuring that not only does the studio headphones fit your ear perfectly well, but also the fact that no nuance of the sound should go amiss!
Its overall appearance is impressive with a stealthy black finish and single-sided cord that simplifies everything. It offers users with an ultra-wide frequency response as well as a high dynamic range — each of which is essential when it comes to recording.
Additional features of the studio headphones include a ¼" TRS stereo adapter which enables it to be connected to home studios as well as DJ gear.

Pros
Multi-purpose by nature
Simplistic design
High-resolution capsules blocks all disturbance
Good connectivity options
Cons
Body made of low-quality plastic, therefore less durable
Can't be used by professionals
Price: INR 1300/- (Click the button below for latest discounts and customer reviews)
.
Best Studio Headphones Under 2000 Rupees: OneOdio Adapter-Free Closed Back Over-Ear DJ Stereo Monitor Headphones


If you're looking for high-definition sound, the OneOdio Adapter-Free studio headphones will not let you down. Comes packed with a 50mm high-performing driver unit, it features the ability to generate the required accuracy for artists who produce mid to high tones.
One of the highlighted abilities of the OneOdio Adapter-Free studio headphones is the fact that its quality remains consistent, even if you turn its volume up to maximum.
It further comes packed with the noise isolation technology, which helps in avoiding any unwanted distractions.

Features and Benefits
The OneOdio Adapter-Free studio headphones is equipped with a 50mm headphone and impedance of 32 Ohms. Featuring a sensitivity level of 110 dB +- 3dB, it delivers a frequency response of anywhere between 20Hz to 20KHz.
The maximum possible power that the studio headphones can spew out is 300mW. In addition to this, it sports numerous connectivity options including a 3.5mm/6.35mm stereo, a 3.5mm to 6.35mm coiled cable and a 3.5mm cable with microphone.
The connectivity options are truly beneficial as they come handy when you would want to indulge in your DJ sessions. You can easily do so and the best part about it is that it is easily detachable.

Pros
Highly comfortable ear cup design
Built is easily foldable and can be stored anywhere
Detachable connectivity options
High definition sound quality
Cons
Limited number of uses
Not smartphone-friendly
Price: INR 1999/- (Click the button below for latest discounts and customer reviews)
.
Best Studio headphone from Sennheiser for Youtubers – Sennheiser HD 206


When you talk about sound systems, Sennheiser undoubtedly does come on top of the list. The audio company has built itself a reputation of delivering budget-friendly, premium-quality products, which definitely are a big hit with the larger audience.
Therefore, if you talk about any studio headphones that Sennheiser is producing, then you can safely assume that it will not disappoint you. Especially not this one.

Features and Benefits
The Sennheiser HD 206 comes along with a frequency response of 21 – 18000 Hz and a sound pressure of 108 dB. The cable length is decent at 3 meters, therefore making it highly mobile by nature.
With a nominal impedance of 24 omegas, which delivers a maximum power transfer. Since these pair of studio headphones come packed with a sealed earcup design, it ensures that the music only goes in and the disturbance from the external environment remains where it is.

Pros
Delivers a decent sound stage
Design is simple and efficient
Built using durable materials
Compatible with all sorts of devices
Best studio headphone under 1500 rupees
Cons
Price: INR 1328/- (Click the button below for latest discounts and customer reviews)
.
Best Wireless Over Ear Studio Headphone With Bluetooth : Audio-Technica ATH-M50XBT


Audio Technica decided to venture into the market of wireless studio headphones for recording and mixing purposes, after an incredible demand for the same arose.
There are a lot of concerns involving wireless studio headphones for singing — chief among them being its battery life. Safe to say, Audio Technica packs its ATH-M50XBT Bluetooth headphones with an abundance of battery life to ensure that it lasts quite a while(about 40 hours).
Absence of which can severely tamper with the user's experience. Imagine running out of battery right in the middle of your most creative session!

Features and Benefits
The unboxing of Audio Technica ATH-M50XBT is perhaps one of the most exciting reasons to purchasing this product. It has so much to offer.
For example, it comes included with a leatherette travel bag that packs a micro USB-to-USB charging cable, a 3.5mm cable and a single-button mic piece. Of course, there are instructions to follow along with the same.
On the inside, it has just as much to offer. The studio headphones features a 45mm driver, which is further clubbed with copper-aluminum voice coils. It further packs a frequency response level of 15Hz-28kHz.
The control options are located under the bottom rim of the left ear cup. The control options include a power/pairing switch, a triple-button control piece and a multi-function key that serves the function of play and pause.

Pros
Delivers well-defined sounds
Features full-base capabilities
Supports an excellent battery life
Avoids external disturbance
Cons
Case is light and thus, less durable
Limited selection of cables
Price: INR 12,887/- (Click the button below for latest discounts and customer reviews)
.
Best Studio Monitor Headphone for Mixing and Recording: Beyer dynamic DT 770 Pro 250 Ohm Headphones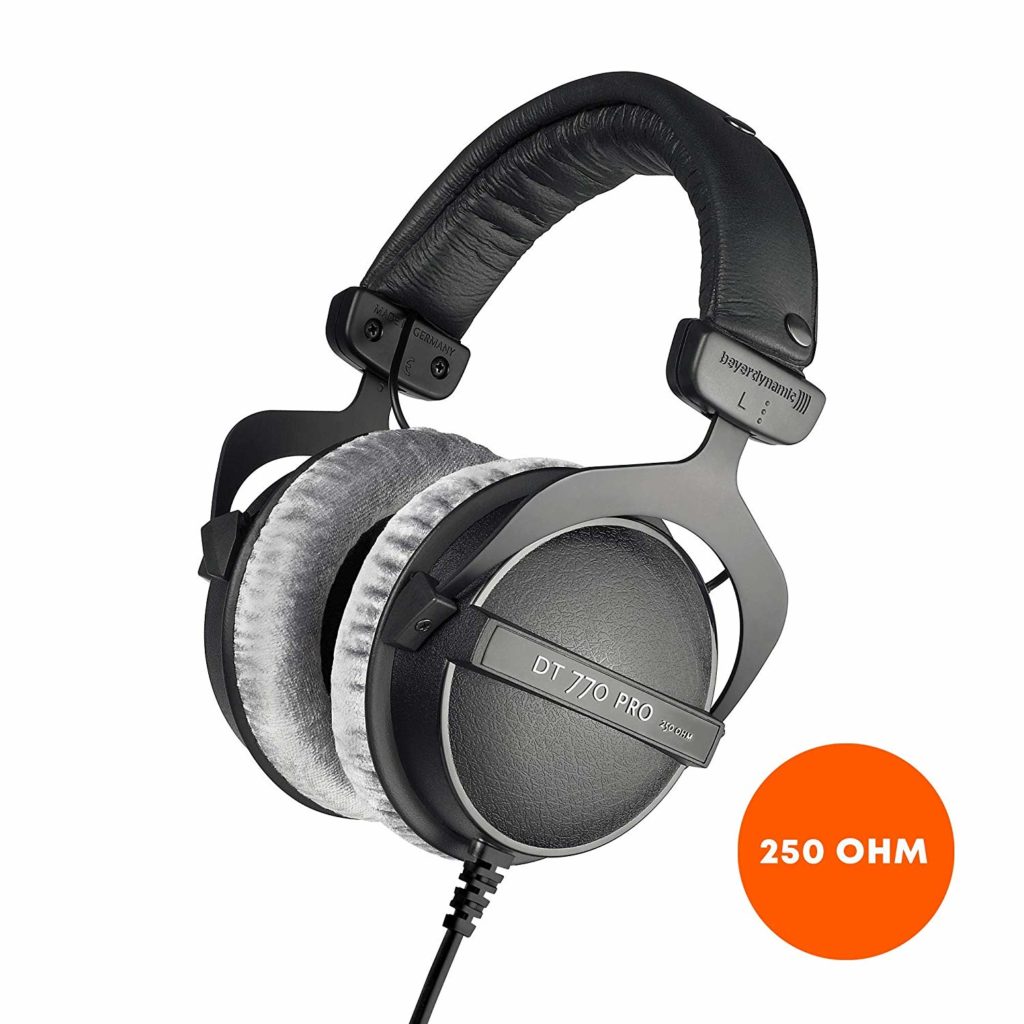 Beyer dynamic DT 770, when released, quickly made the reputation of delivering one of the most unique sound qualities in the market of studio headphones for recording.
Its frequency response is considered to be the product's signature feature and is thus, greatly emphasized upon.
The headphones feature an old-school design with large circular over-ear ear cups topped with a metal headband that features a replaceable pad.
However, the cable is attached to the headphones and there is no way you can remove it. It further comes along with a coiled cable, which is easy to bend and flex in any manner you'd like.

Features and Benefits
As mentioned previously, these studio monitor headphones features a transducer type, circum-aural around the ear design. It features a nominal impedance of 5 – 35,000 Hz and has a power handling capacity of 96 dB.
The headphone's cable is 3 meters long in length, so its easy for anyone to adjust the product through their respective studio stations.
Materials used to build the headphones are plastic and leather.
At the same time, the headband is created using a soft-padded construction. The Beyerdynamic DT 770 is available in three colors, i.e. Black, Grey and Silver.

Pros
Is compatible with all genres of music
Highly comfortable design of ear cups
Good at avoiding disturbance
Wire is long and durable
Cons
Price: INR 14,000/- (Click the button below for latest discounts and customer reviews)
Conclusion
If you're at the end of this article, then you know what to do. Pick up a pen and jot down your requirements – what is the purpose of purchasing a new pair of studio headphones?
Answer this question for yourself and compare the same with the list above. The one that matches your need the most is your key to the next best track or video you create!